Research

Open Access

Open Peer Review
This article has Open Peer Review reports available.
Enhancing condom use experiences among young men to improve correct and consistent condom use: feasibility of a home-based intervention strategy (HIS-UK)
Pilot and Feasibility Studies
2018
4:63
Received: 29 November 2017
Accepted: 22 February 2018
Published: 7 March 2018
Abstract
Background
Condoms remain the main protection against sexually transmitted infections (STIs) when used correctly and consistently. Yet, there are many reported barriers to their use such as negative attitudes, reduced sexual pleasure, fit-and-feel problems and erection difficulties. The UK home-based intervention strategy (HIS-UK) is a behaviour change condom promotion intervention for use among young men (aged 16–25 years) designed to increase condom use by enhancing enjoyment of condom-protected intercourse. The objective of this feasibility study was to test HIS-UK for viability, operability and acceptability. Along with an assessment of the recruitment strategy and adherence to the intervention protocol, the study tested the reliability and suitability of a series of behavioural and condom use outcome measures to assess condom use attitudes, motivations, self-efficacy, use experience, errors and problems and fit and feel.
Methods
The HIS-UK intervention and associated assessment instruments were tested for feasibility using a single-arm, repeated measures design with baseline measurement and two follow-up measurements over 3 months. A 3-month target of 50 young men completing the baseline questionnaire was set. Twenty process and acceptability evaluation interviews with participants and health promotion professionals were conducted post trial.
Results
Of the 61 young men who registered for the study, 57 completed the baseline questionnaire and 33 met with the study researcher to receive the HIS-UK condom kit. Twenty-one young men remained for the duration of the study (64% retention). The Cronbach's alpha scores for the condom use outcome measures were 0.84 attitudes, 0.78 self-efficacy, 0.83 use experience, 0.69 errors and problems and 0.75 fit and feel. Participant and health professional feedback indicated strong acceptability of the intervention.
Conclusions
The feasibility study demonstrated that our recruitment strategy was appropriate and the target sample size was achieved. Adherence was favourable when compared to other similar studies. The condom use measures tested proved to be fit-for-purpose with good internal consistency. Some further development and subsequent piloting of HIS-UK is required prior to a full randomised controlled trial, including the feasibility of collecting STI biomarkers, and assessment of participant acceptance of randomisation.
Trial registration
Research registry, RR2315, 27th March 2017 (retrospectively registered).
Keywords
Condom
Condom use
Fit and feel
Intervention
Sexual health
Sexually transmitted infections
Behaviour change
Health promotion
Young men
Feasibility
Background
The Framework for Sexual Health Improvement in England recognises human immunodeficiency virus (HIV) and sexually transmitted infections (STIs) as important public health concerns, especially among young people [1]. Despite a large reduction in the rates of teenage pregnancies in the UK, STI rates remain high. According to a recent Public Health England report, there were approximately 420,000 STI diagnoses made in England during 2016 and the impact of STIs remains greatest among young heterosexuals under the age of 25 years and in men who have sex with men. Compared to people aged 25–29 years, current rates of STI diagnoses among 16- to 24-year-olds are twice as high in men and seven times higher in women [2].
Male condoms can be highly protective against the transmission of STIs when used correctly and consistently [3]. However, there is substantial evidence that condoms are often not used properly and there are many barriers to their use [4]. Research has linked problems with condom 'fit and feel,' erection difficulties, negative attitudes, and reduced sensation and sexual pleasure with inconsistent and non-condom use [4]. The effectiveness of condoms is also reduced by incomplete use (not using condoms from start to finish of penetrative vaginal or anal intercourse), which is more commonly described by men who report negative experiences and problems when using condoms [4, 5].
One of the Department of Health's current priorities is to reduce STI rates using evidence-based preventative interventions [6]. Current national guidelines regarding behavioural interventions to prevent STIs are, however, limited. Historically, many health promotion interventions have tried to improve knowledge and skills to promote effective condom use; systematic reviews of the efficacy of these interventions have produced mixed results [7–9]. Poor quality trials and a failure to identify the active components (behaviour change techniques) of existing interventions have reduced the ability of previous work to inform future intervention development. Moreover, there has been a tendency to focus on resource-intensive interventions; in practice, health promotion staff may not have the time or the resources to fully engage with 'high-demand' intervention programmes. Yet there is emerging evidence that brief interventions designed with identifiable and evidence-based components can reduce STI acquisition among young people [10–12].
Recent National Institute of Health and Care Excellence (NICE) guidelines on condom distribution stress the need to teach young people to use condoms effectively and safely (using education, information and demonstrations), and to provide a range of condoms and lubricants to meet needs [13]. NICE also recommends that one-to-one condom promotion discussions focusing on skills acquisition, communication skills and motivation to adopt safer sexual behaviours should be provided as part of routine care of those at elevated risk of STIs [13, 14].
In light of the reported obstacles to correct and consistent condom use [4], there is a need to develop brief interventions that focus on condom barriers as important determinants of condom use behaviour. The Kinsey Institute Homework Intervention Strategy® (KIHIS) is a brief behaviour change condom promotion intervention, developed in the US to improve condom skills, enjoyment and self-efficacy among young men [15, 16]. KIHIS is novel in that it aims to increase condom use by enhancing the fit and feel of condoms and, thereby, outcome expectancies related to enjoyment of sex whilst using condoms [17, 18]. The primary philosophy behind the KIHIS intervention is to place the impetus for behaviour change on individuals by encouraging solitary practice and experimentation with condoms. The model adopted is taken from the behavioural therapy approach most commonly used to treat sexual problems and which incorporates homework assignments (or 'directed practice') [19]. In common with this approach, the KIHIS includes behavioural exercises designed to promote condom experimentation and increase an individual's focus on pleasurable sensations whilst using condoms. The KIHIS programme has three elements: self-practice with condoms in 'no pressure' situations, experimentation with different condom and lubricant brands (to address issues of fit and feel) and encouragement to focus on the physical sensations whilst using condoms.
KIHIS has demonstrated early evidence of efficacy in studies conducted in the US and Canada [15, 16]. A small pilot study involving young heterosexual men found that the intervention led to significant improvements in condom use experiences, self-efficacy and condom fit and feel, as well as a reduction in breakage and erection problems [15]. A study of young men who have sex with men demonstrated that KIHIS increased condom use and improved attitudes toward condoms and condom use self-efficacy [16].
The objective of the HIS-UK study was to adapt and manualise the KIHIS into a cultural- and health care appropriate intervention for delivery to young men (aged 16–25 years) within community settings in the UK and test it for viability, operability and acceptability [20, 21]. The study involved a series of work packages. Firstly, we conducted a systematic review to synthesise available literature on the effects of condom-focused, pragmatic behavioural interventions of relevance to the UK context (Anstee S, Graham CA, Stone N, Shepard J, Brown K, Newby K, Ingham R. The evidence for behavioural interventions addressing condom use fit and feel issues to improve condom use: A systematic review. Submitted). This was accompanied by a behaviour change taxonomy coding exercise to identify active components of effective interventions that could be incorporated into HIS-UK [22]. Secondly, a user consultation and design phase, involving discussions and workshops with young men, youth workers, and health promotion professionals, was carried out to ensure the HIS-UK intervention and the associated research study was developed in genuine partnership with those for whom it was intended. The aim of the third, feasibility, work package was to test the study recruitment and retention strategy, intervention delivery protocol, participant adherence, data collection and assessment tools, proposed outcome measures and analysis methodology. The final work package was a post-intervention qualitative process evaluation to assess the acceptability of HIS-UK implementation, involving in-depth interviews with study participants and health promotion professionals. Findings from the feasibility study, lessons learned from the process evaluation interviews and conclusions drawn about the suitability of taking HIS-UK to a full trial are presented here. Outcomes from the systematic review and a full description of the development of the intervention, including the behaviour change techniques incorporated, will be reported elsewhere.
Results
Participant recruitment and retention
During the 3-month recruitment period, 61 eligible young men registered to take part in the feasibility study and 57 (93%) went on to complete the T1 baseline questionnaire (see Fig.
1
). Participants had a mean age of 19.4 years (SD = 2.2), 91% were White British and 84% self-identified as heterosexual. Participants had a median of three lifetime sexual partners. Two participants had previously been diagnosed with an STI, and seven were known to have had a partner become pregnant. All participants had used a condom on at least one occasion previously.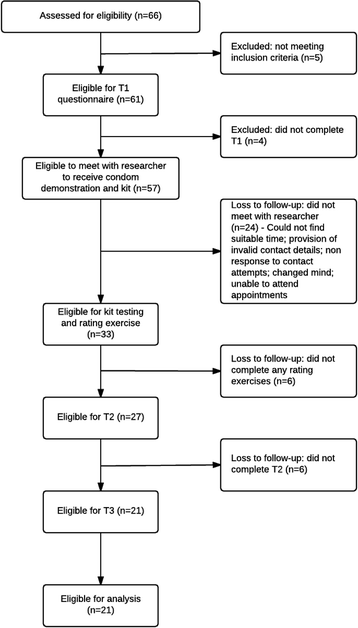 At the time of registration, 41 (72%) participants were currently in a relationship, of whom seven also reported having intercourse with other sexual partners. Nine participants (16%) had not had intercourse during the previous 4 weeks. Among the 48 who had, 24 (50%) had used a condom at the last intercourse.
Using an open text box response box (multiple reasons permitted), participants were asked about their motivation for involvement in the study. Just over half (n = 30) mentioned they were motivated by the free condoms, 21 cited the financial incentive offered, 18 because they wanted to 'do good' and 'help out' with the research, 15 mentioned the opportunity to try out new condom types, ten reported they wanted to become better users of condoms and two were motivated by the supply of free lubricant.
Of the 57 young men who completed T1, 33 (58%) met with the researcher and received the HIS-UK intervention and condom kit. The main reasons for not receiving HIS-UK included providing invalid contact details or not responding to researcher e-mails and telephone messages (n = 10), participants changing their mind and withdrawing from the study (n = 8) and missing pre-arranged appointments or not being able to find a suitable time to meet with the researcher (n = 7). During comparative analyses, only two significant differences were found between the men who received HIS-UK and those who did not. Receivers of HIS-UK were significantly more likely to live in areas of higher deprivation than non-receivers (mean = 6.62, SD = 2.41 vs M = 5.09, SD = 2.58: t(49) = 2.18; p = 0.034, 95% CI [0.11–2.94]) and more likely to report that their partners were highly motivated to use condoms correctly (M = 4.09, SD = 0.91 vs M = 3.48, SD = 1.20: t(54) = 2.17; p = 0.035, 95% CI [0.05–1.18]).
Condom rating adherence
Of the 33 young men who received the condom kit, 27 (82%) completed at least one condom rating form and 23 (70%) completed three. Eighteen participants were fully compliant, testing all eight types of condoms provided during the 2-week condom testing period (55% adherence).
Young men who completed eight rating forms were compared to those who did not achieve the desired completion rate. Participants who were adherent reported significantly higher condom self-efficacy scores (i.e. greater ability) than those who were non-adherent (M = 3.97, SD = 0.69 vs M = 3.25, SD = 0.94: t(29) = 2.46; p = 0.020, 95% CI [0.12–1.32]), and reported significantly fewer condom use errors and problems (M = 2.12, SD = 1.69 vs M = 4.07, SD = 2.28: t(30) = 2.77; p = 0.010, 95% CI [0.51–3.39]).
A total of 197 condoms were rated by the intervention participants. Ninety-five percent were complete tests, i.e. the condom was successfully applied to the penis, and 85% of tests were performed alone, in the absence of a sexual partner. Incomplete tests were reportedly due to ill-fitting condoms (typically too small in size) and condom breakage on application. During 38 condom tests (19% of all tests), an additional lubricant was also tested; in 71% of these, test participants reported that the lubricant increased/enhanced pleasure.
Follow-up questionnaire adherence (T2 and T3)
Twenty-one of the 33 men who received the condom kit completed T2 (64% adherence), all of whom went on to successfully complete T3. Comparative analyses between the participants who completed T2/T3 and those who did not showed no significant demographic or background differences. However, young men who completed the study were significantly more likely to adhere to the condom rating protocol and submit eight rating forms; 86% adherence as compared to 0% among young men who dropped out of the study (χ2 (1, N = 33) = 22.63, p < 0.000).
Outcome assessment
The primary and secondary outcome measures are summarised in Table
1
. Preliminary comparative three time-point analyses indicated there was a significant increase in reported use of an additional lubricant during condom use with a sexual partner between baseline (T1) and T3 (
p
 = 0.008). There was also an observed decline in the mean scores of the condom use attitudes scale and condom use experiences scale over the intervention period. Furthermore, paired
t
tests showed a decline in the number of reported condom use errors and problems at last use between T1 and T2, (
t
(13) = 2.78;
p
 = 0.016, 95% CI [0.29–2.28]), and improvements in participants' motivation to use condoms between T2 and T3, (
t
(20) = 2.09;
p
 = 0.049, 95% CI [0.00–0.67]).
Table 1
Three-time point (T1, T2, T3) comparison of selected outcome measures
| Outcome measures | T1 | T2 | T3 | Comparative analysis |
| --- | --- | --- | --- | --- |
| Condom use at last intercourse, % | 57.9 | 72.2 | 53.3 | aWald χ2 = 0.46, df = 2, p = 0.101 |
| Consistent condom use in the last 4 weeks, % | 52.6 | 50.0 | 46.7 | aWald χ2 = 0.15, df = 2, p = 0.927 |
| Lubricant use in last 4 weeks, % | 13.3 | 53.3 | 63.6 | aWald χ2 = 9.71, df = 2, p = 0.008 |
| Condom use attitudes, M | 4.15 | 4.06 | 3.90 | cF(1.35,25.72) = 1.02, p = 0.347 |
| Condom use errors and problems, M | 2.13 | 0.88 | 1.25 | bF(2,14) = 1.91, p = 0.184 |
| Condom use fit and feel, M | 8.71 | 7.71 | 8.57 | bF(2,12) = 1.16, p = 0.347 |
| Condom use experiences, M | 3.37 | 3.08 | 2.82 | cF(1.05,6.31) = 3.282, p = 0.117 |
| Condom use self-efficacy scale, M | 3.91 | 3.92 | 4.03 | cF(1.25,23.67) = 0.432, p = 0.560 |
| Condom use motivation scale, M | 4.14 | 4.00 | 4.33 | bF(2,40) = 2.662, p = 0.082 |
Process evaluation interviews
The participants interviewed were overwhelmingly supportive of the intervention and would recommend the programme to their friends. Many of the young men reported that they were previously unaware of the variety of condoms available to them and were thankful of the opportunity to try out new brands. Despite initial reservations regarding workload and resource implications of being involved in the HIS-UK study, the health professionals were very positive about the intervention and engagement was good. In one recruitment centre, changes in condom distribution had already occurred as a result of being involved in HIS-UK. Recruitment was facilitated by the use of a variety of high-quality advertising materials and the use of an online registration website, and distribution of the kit by the study researcher meant that health care staff involvement time was kept to a minimum.
The interviews did reveal areas where participants and health professionals thought improvements could be made. For example, it was recommended that a visual tracking system was included on the questionnaires so participants could see how they were progressing on the survey tool. An option to provide further details to questions (open text boxes) was also desired, and a reduction in the number of (perceived repetitive) questionnaire items was requested. Furthermore, the young men felt that the intervention would benefit from the inclusion of strategies to reduce the impact of condom application (i.e. 'breaking the mood'). Greater emphasis in the literature provided (participant information sheet, instruction guide, website etc.) on the need for, and advantages of, self-practice was another recommendation made. The health professionals felt that engagement of black and minority ethnic (BME) groups could be strengthened and that religious views regarding masturbation may prevent some young men from participating. A summary of all the 'lessons learned' following participant and health professional feedback in the process interviews is presented in Table
2
.
Table 2
Summary of the lessons learned from the follow-up participant interviews
Topic

Participants

Health professionals

Context

Difficult working with youth workers who are already stretched;

Timing to start recruitment (e.g. exams for students) was difficult;

Funding cuts affected condom availability in community settings

Fidelity

Make the solo-condom testing clearer in all written and verbal communication

Reach

Targeted appropriate populations, but shy/embarrassed people may be hard to reach

BME groups hard to reach; religious views may be a barrier

Recruitment

Make contact during long gaps in between study activity; reminders were good

Adverts, cards, posters and website were well-received

Researchers' ability to join in with youth organised activities is important

Credible source

Website/university information important, as well as researchers' background

Researcher came across as knowledgeable about sexual health issues and approachable

Condom demonstration

Several participants who thought they were skilled at application still got things wrong and found demo useful

Important to include a 'reminder' and to ensure competency

Rating form and questionnaires

Some said these were too long. Would be good to have open-text questions on rating forms and have a visual tracking system to see progress on the questionnaires

Impact of study

Most had no awareness about variety of condoms and lubes available; identified condoms they liked and felt more confident with

Initial worry about additional workload (a bit of resistance); make clearer realistic expectations on workload.

Has already changed practice—services are offering a wider variety of condoms

Anything we missed? Possible improvements

Transgender and non-binary people—maybe our information does not make clear enough that HIS-UK is suitable for all.

The 'interruption' condoms are to sex—need ideas on how to reduce

Be opportunistic—interview immediately rather than appointments if possible
Discussion
The results of the feasibility study and feedback gathered during the evaluative interviews provide useful insights on how successful we have been in adapting the US developed KIHIS for use in the UK. The feasibility study highlighted that our recruitment strategy was appropriate and we achieved our target sample size within the defined time-frame. However, a face-to-face recruitment approach in community and educational settings was deemed somewhat resource-intensive and consideration should be given to alternative recruitment options such as the utilisation of targeted social media advertisements and the use of peer-promoters. Moreover, young men from Black and minority ethnic communities were under-represented in the sample and future studies might employ more focused recruitment activities. In the consultation phase of the study, the potential impact of cultural taboos regarding masturbation and self-pleasure on participation was discussed, but we did not test any strategies to try to assess or reduce this as a potential barrier to recruitment.
Participants were able to self-register for the study, and it was unfortunate that several men who expressed an interest in participating were unable to find an appropriate time to meet with the RA to receive their condom kit and/or did not show up to appointments. Furthermore, one of the initial screening questions (Do you sometimes go without condoms?) potentially allowed young men who were already reasonably competent users of condoms to participate in the programme. A small alteration to the wording, such as the non-use of condoms with new or casual partners, would ensure those at greatest risk of STIs are targeted more directly.
The use of a web-based data collection interface was considered highly acceptable to the target group of young men. Furthermore, text messaging and e-mail proved to be suitable methods of communication and, along with relatively modest incentives, ensured 64% retention at 8-week follow-up (T2) and100% retention between T2 and T3. Despite comparing favourably to other similar studies, this fell just short of our minimum target retention rate [32, 33]. During the qualitative interviews, participants recommended that researchers maintain more regular communication with participants during their involvement to increase the likelihood of retention. In addition, we propose supplying participants with regular supplies of their preferred condom type and lubricant as a way to further incentivise.
The feasibility study established that the outcome measures tested were fit for purpose with good inter-item coefficient scores. However, the Condom Use Fit-and-Feel Scale could be extended (and potentially improved) by exploring the inclusion of further relevant items drawn from the other scale items. Furthermore, the current measures of condom use pleasure and sensation were limited to the condom rating forms and could be enhanced by additional inclusion in the T1–T3 surveys.
There were some promising signs from the analyses of the T1–T3 data collected that the HIS-UK intervention may have a positive impact on variables known to be associated with effective and consistent condom use (including condom use attitudes, use experiences, motivation and use of additional lubricant), as has been shown in the testing of KIHIS [15, 16]. These, however, need to be assessed within a fully powered trial before any definitive conclusions can be drawn.
Participant feedback indicated strong acceptance and approval for the intervention and the directed self-practice tasks (86% of young men completing the study were compliant in testing eight different condoms). Indeed, many participants reported that prior to participating in the study they had not given much thought to testing out different condoms for fit and feel, nor to self-practice of condoms in the absence of a sexual partner. That said, when rates of condom rating compliance were examined it was clear that all participant drop-out occurred soon after the condom kits were received—during the initial 2-week condom testing period. Feedback during the follow-up interviews highlighted the need to make all recruitment advertising more explicit regarding the role of solo-testing in the study to ensure that all potential participants are fully aware of what the study involves when they register.
The HIS-UK intervention is novel in that it focuses on improving condom use experience, in particular the fit and feel of condoms during use. A recent review of the literature suggested that only a few previous interventions have had this focus (Anstee S, Graham CA, Stone N, Shepard J, Brown K, Newby K, Ingham R. The evidence for behavioural interventions addressing condom use fit and feel issues to improve condom use: A systematic review. Submitted). Our intervention is also brief and home-based and, thus, should be cost-effective and easy to implement in sexual health clinics as well as community settings. Indeed, NICE guidance recommends providing a range of condom types and distribution schemes to meet the differing needs of young people [13].
Conclusion
Based on our evaluation of the HIS-UK feasibility study, we conclude that the intervention is acceptable to young men and health promotion professionals and the research design, evaluative tools and outcome measures are appropriate. However, some further development and subsequent piloting of HIS-UK is required prior to testing the intervention in a large-scale randomised controlled trial. Acceptance to randomisation would need to be tested, and future studies might also evaluate the use of a video presentation of the study introduction and condom demonstration, as compared to face-to-face delivery (as in this study). This would provide consistency and standardisation in delivery and could reduce recruitment time and implementation costs, and help retain participants lost following registration. Outcome measurement in future trials should also include STI biomarkers to test the effectiveness of HIS-UK for reducing STI incidence.
Abbreviations
ANOVA:

Analysis of variance
HIS-UK:

Home-based intervention strategy UK
KIHIS:

The Kinsey Institute Homework Intervention Strategy®
NICE:

National Institute of Health and Care Excellence
RA:

Research assistant
STI/STIs:

Sexually transmitted infection/s
UK:

United Kingdom
US:

United States
Declarations
Acknowledgements
The authors would like to thank the Kinsey Institute Condom Use Research Team for their invaluable advice and for sharing with us the original intervention; the health promotion staff who offered their advice, support and guidance; the staff at the youth information and advice centres for their assistance with the advertising and recruitment of participants; the young men for their involvement in the study and Durbin and Pasante for their support and supply of free condom samples. The research was funded by the MRC Public Health Intervention Development Scheme (PHIND), ID: MR/M026191/1.
Funding
The research was funded by the MRC Public Health Intervention Development Scheme (PHIND), ID: MR/M026191/1.
Availability of data and materials
Anonymised datasets used and/or analysed during the current study are available from the corresponding author on reasonable request.
Authors' contributions
NS analysed and interpreted the participant survey data and was the primary contributor in writing the manuscript. CG assisted in the interpretation of the survey and interview data and was a major contributor in writing the manuscript. SA was the RA on the study, recruited participants and delivered the intervention. SA also analysed and interpreted the interview data. RI, KB and KN all assisted in the interpretation of the survey and interview data. All authors commented on early drafts of the manuscript. All authors read and approved the final manuscript.
Ethics approval and consent to participate
Approval for the study was obtained from the University of Southampton Ethics Committee (ID: 17504).
Consent for publication
Not applicable
Competing interests
The authors declare that they have no competing interests.
Publisher's Note
Springer Nature remains neutral with regard to jurisdictional claims in published maps and institutional affiliations.
Open AccessThis article is distributed under the terms of the Creative Commons Attribution 4.0 International License (http://creativecommons.org/licenses/by/4.0/), which permits unrestricted use, distribution, and reproduction in any medium, provided you give appropriate credit to the original author(s) and the source, provide a link to the Creative Commons license, and indicate if changes were made. The Creative Commons Public Domain Dedication waiver (http://creativecommons.org/publicdomain/zero/1.0/) applies to the data made available in this article, unless otherwise stated.
Authors' Affiliations
(1)
Centre for Sexual Health Research, Department of Psychology, University of Southampton, Southampton, UK
(2)
Centre for Advances in Behavioural Science, Coventry University, Coventry, UK