Study Protocol
Open Access
Open Peer Review
This article has Open Peer Review reports available.
The effects of low-intensity blood flow restricted exercise compared with conventional resistance training on the clinical outcomes of active UK military personnel following a 3-week in-patient rehabilitation programme: protocol for a randomized controlled feasibility study
Pilot and Feasibility Studies
2017
3:71
Received: 14 August 2017
Accepted: 1 December 2017
Published: 8 December 2017
Abstract
Background
A challenge for rehabilitation practitioners lies in designing optimal exercise programmes that facilitate musculoskeletal (MSK) adaptations whilst simultaneously accommodating biological healing and the safe loading of an injured limb. A growing body of evidence supports the use of resistance training at a reduced load in combination with blood flow restriction (BFR) to enhance hypertrophic and strength responses in skeletal muscle. In-patient rehabilitation has a long tradition in the UK Military, however, the efficacy of low intensity (LI) BFR training has not been tested in this rehabilitation setting. The aims of this study are to determine (1) the feasibility of a randomised controlled trial (RCT) investigating LI-BFR training in a residential, multidisciplinary treatment programme and (2) provide preliminary data describing the within and between-group treatment effects of a LI-BFR intervention and a conventional resistance training group in military personnel.
Methods
This is a single-blind randomised controlled feasibility study. A minimum of 28 lower-limb injured UK military personnel, aged 18 to 50 years, attending rehabilitation at the UK Defence Medical Rehabilitation Centre (DMRC) will be recruited into the study. After completion of baseline measurements, participants will be randomised in a 1:1 ratio to receive 3 weeks (15 days) of intensive multidisciplinary team (MDT) in-patient rehabilitation. Group 1 will receive conventional resistance training 3 days per week. Group 2 will perform twice daily LI-BFR training. Both groups will also undertake the same common elements of the existing MDT programme. Repeat follow-up assessments will be undertaken upon completion of treatment. Group 2 participants will be asked to rate their pain response to LI-BFR training every five sessions.
Discussion
The results will provide information on the feasibility of a full-scale RCT. Recommendations for an adequately powered study to determine the efficacy of LI-BFR training during in-patient rehabilitation can then be made. The study may also provide insights into the potential effectiveness of LI-BFR training as a novel exercise modality to induce muscle adaptations in the absence of high mechanical loading of the lower-limb.
Keywords
Blood flow restrictionMusculoskeletal rehabilitationLower-limbMuscleStrengthHypertrophyPain
Background
The maintenance of adequate skeletal muscle is crucial for maintaining the ability to undertake activities of daily living, ambulation, falls avoidance and general health [1]. Disuse of skeletal muscle, often associated with musculoskeletal (MSK) injury, can lead to relatively rapid and progressive atrophy; shortening of muscle fibres, decreased oxidative capacity, and reduced muscle compliance [2]. It is widely acknowledged that muscle atrophy can prolong the duration of MSK rehabilitation, increase the cost to health care providers and prevent optimal recovery [3]. Thus, strategies to increase or maintain muscle tissue across the lifespan are crucial for overall health and quality of life.
The goal of the surgical and rehabilitative team focuses on the safe return of a patient to their previous level of function. MSK rehabilitation can be considered in terms of the appropriate integration and progression of the following broad exercise components: endurance, flexibility, proprioception, balance, joint and soft tissue mobility, speed and power [4]. Strength training is most closely associated with improvements in functional ability during rehabilitation [5]. Therefore, maximising the potential for adaptations in muscle strength is a crucial factor in the progression of any MSK exercise rehabilitation programme. A significant challenge lies in designing optimal rehabilitation programs that facilitate both neurological and muscular adaptations whilst accommodating biological healing and patient safety [4]. Historically, it has been widely accepted that to elicit significant gains in muscle hypertrophy and strength requires loads equivalent to at least 70% of an individual's 1 repetition maximum (1RM) for a given movement [6, 7]. For people undergoing musculoskeletal injury rehabilitation, heavy-load resistance training can be contraindicated [2] or they are limited by their symptomatic impairment, including pain and immobility, to attain the recommended heavier-loads [8]. Therefore, patients with MSK injuries are often advised to reduce their training load, potentially limiting the desired muscular response to treatment.
In recent years, research demonstrates that the use of blood flow restriction (BFR) combined with low-load resistance exercise (20–40% 1RM) can enhance the morphology and strength response in human muscle tissue [9]. BFR is typically achieved via a pressurised cuff [10], tourniquet [11] or elastic banding [12]. The external pressure applied to the proximal portion of the upper or lower extremities should be low enough to maintain partial arterial inflow into the muscle, but high enough to occlude venous return from the muscle [13]. During periods of immobilisation, the application of BFR alone has been shown to reduce muscular atrophy [14]. However, to optimise muscular development, BFR must be combined with an exercise stimulus (aerobic conditioning or resistance training), with the greatest muscle strength and morphological responses achieved when BFR is combined with resistance training [2].
When supervised by experienced practitioners, low-intensity BFR (LI-BFR) has been shown to be a safe and effective tool to improve strength and function in athletes [15], the elderly [16, 17] healthy adults [18] and during MSK rehabilitation [19–24]. Additional benefits reported with LI-BFR training, is the potential for increases in muscle hypertrophy and strength in muscles located proximal to the applied pressure (i.e. muscles not direct under BFR) as a result of pre-fatigue of the muscles below the cuff [25]. It is possible that this additional muscle stimulus proximal to the cuff (e.g. in the Gluteus Maximus muscle during a squat or leg press) may further enhance physical function and accelerate progression during MSK rehabilitation. Adverse events to acute sessions of LI-BFR have been reported and primarily include delayed onset of muscle soreness, numbness, fainting/dizziness and bruising [26]. There have also been case study reports of rhabdomyolysis [27, 28] and retinal occlusion [29] in the literature. However, when appropriately supervised, LI-BFR is widely acknowledged as a safe mode of exercise in healthy adults [30].
It is proposed that the metabolic stress associated with BFR and the mechanical tension of the load lifted act synergistically to mediate numerous secondary mechanisms, all of which stimulate autocrine and/or paracrine actions to facilitate muscle growth [31]. These proposed mechanisms include muscle cell swelling [32], elevated systemic hormone production [33, 34], intramuscular anabolic/anti-catabolic signalling [35–37], increased fast twitch fibre recruitment [38] and the production of reactive oxygen species (ROS) [39, 40] and its variants, including i) nitric oxide for its influence on vascular responses [41, 42] and ii) some heat shock proteins [36, 39]. However, in the absence of research demonstrating a causal link, any suggested associations between BFR training and subsequent muscle growth are purely speculative.
There is increasing evidence for the practical and beneficial use of BFR training as a clinical MSK rehabilitation tool [
43
]. Any intervention that speeds the progression of MSK rehabilitation, whilst exercising at lower relative training loads, is of interest not only to the rehabilitation and sports medicine communities, but the wider community health services. In military populations, the majority of injuries occur in the lower limb [
44
]. In a cohort of 6608 British Army recruits, during a 26-week period of initial military training, the overall incidence of musculoskeletal injuries was 48.6% [
45
]. There is a large economic and operational cost associated with lower-limb MSK injury. Soldiers injured during basic training, field exercise, sport etc. may be unable to deploy on operations, whilst soldiers injured during deployment may not be fit to return to active duty [
44
]. The Centre for Lower-Limb Rehabilitation at the UK Defence Medical Rehabilitation Centre (DMRC), Headley Court routinely treats and manages a large variety of lower-limb musculoskeletal disorders (See Fig.
1
for a diagrammatic model of the rehabilitation pathway). These typically include, but are not limited to, overuse injuries (e.g. patellofemoral pain, tendinopathy, early osteoarthritis, and exertional lower-limb pain), post-surgical injuries (e.g. soft-tissue and ligamentous reconstruction), bone fractures, and hip and groin pain.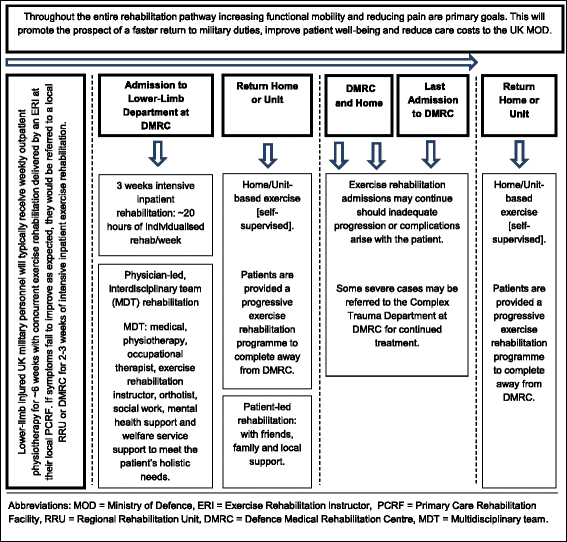 Of particular interest, in relation to the UK military model of exercise rehabilitation (Fig. 1), is the evidence of muscular hypertrophy and strength demonstrated with high frequency (twice a day) BFR training in as little as 6 days [46] and 12 days [47] of training. The effect of this novel training method is yet to be explored across the UK Defence Medical Services (DMS). Therefore, the purpose of this study is to assess the feasibility of LI-BFR training in a heterogeneous group of lower-limb injured military personnel, under the conditions provided during a 3-week intensive residential rehabilitation centre. This includes measuring the hypertrophic and strength response but also reporting any potential adverse events, monitoring compliance and the pain response over time and whether frequent daily use of this clinical tool is feasible in a busy MDT clinical rehabilitation setting where other potentially conflicting clinical priorities exist. This protocol describes the design and analysis plan for a randomised controlled feasibility study.
Methods/design
The primary aim of this study is:
1.

To assess the acceptability, feasibility and adverse events associated with implementing a high-frequency LI-BFR intervention in a 3-week intensive residential MDT rehabilitation setting.

2.

To assess the feasibility of a future definitive RCT by assessing participant eligibility, monitoring recruitment and retention rates, group allocation acceptance and adherence to the intervention.
The secondary aim is to compare the effects of LI-BFR training against conventional resistance training on cross-sectional area (CSA) and volume of the quadriceps and hamstring muscle groups and muscle strength in UK military personnel undergoing lower-limb injury rehabilitation. Changes in relevant musculoskeletal variables of treatment routinely measured as part of the standard UK military rehabilitation care pathway will also be assessed. This includes walk/run assessment, balance, pain perceptions and compliance to the exercise rehabilitation programme.
Discussion
Optimising the recovery of UK Military personnel suffering MSK injury is of critical importance and has been highlighted as a priority for research by the UK Defence Medical Services. The premise that the use of BFR combined with low-load resistance exercise can enhance the strength response in human muscle tissue may have implications for the rate of recovery in patients undergoing injury rehabilitation. We describe the rationale and design of a feasibility study for the introduction of an LI-BFR intervention into a residential, MDT rehabilitation programme for military patients suffering a variety of lower-limb MSK injuries. To date, this is the first study to establish the preliminary effects of LI-BFR on the muscle volume, strength measures and functional capacity of military personnel undergoing intensive, in-patient rehabilitation. Furthermore, the recruitment methods, safety, intervention adherence and acceptability of a twice daily LI-BFR intervention are essential feasibility components that need to be understood prior to embarking on a fully powered randomised controlled trial. Therefore, the findings from this feasibility study will inform a full-scale trial to determine the effectiveness of LI-BFR during in-patient, MDT rehabilitation. If feasible, military and civilian health care providers could consider LI-BFR as a cost-effective, practical rehabilitation modality to induce muscle adaptation in the absence of high mechanical loading of the lower-limb. The results of the trial will be published when they are available.
Abbreviations
BFR:

Blood flow restriction
CECS:

Chronic exertional compartment syndrome
CSA:

Cross-sectional area
DMRC:

Defence Medical Rehabilitation Centre
DMS:

Defence Medical Services
ERI:

Exercise Rehabilitation Instructor
GCP:

Good clinical practice
LI-BFR:

Low intensity blood flow restriction
MDT:

Multidisciplinary team
MRI:

Magnetic resonance imaging
MSK:

Musculoskeletal
MSLT:

Multi-stage locomotion test
MVC:

Maximal voluntary contraction
PIS:

Participant information sheet
RM:

Repetition maximum
ROM:

Range of motion
ROS:

Reactive oxygen species
VAS:

Visual analogue scale
Declarations
Acknowledgements
The authors would like to acknowledge and thank Mr. Jakob Kristensen for developing the framework proposal and supporting ethics submission during the early stages of the study. The authors wish to thank the clinical staff on the Lower-Limbs Department of the UK Defence Medical Rehabilitation Centre (DMRC) Headley Court for supporting the conduct of this research in a busy clinical setting.
Funding
The study was funded by the UK Ministry of Defence (MOD).
Availability of data and materials
Not applicable owing to the study type.
Authors' contributions
PL, RC, SDD and SDP conceived the study design. AB obtained the funding. SDD and DC will be responsible for recruiting and consenting participants into the study and delivery of the intervention. ES will analyse, interpret and report all MRI-related outcomes. PL, RC, SDD and ES will analyse the findings. PL and RC wrote the draft of the manuscript; all authors read, critically reviewed and approved the final version.
Authors' information
PL is the Exercise Physiology in Military Rehabilitation Research Lead, within the Academic Department of Military Rehabilitation (ADMR) at DMRC, Headley Court, UK. RC is the Clinical Research Manager on ADMR, at DMRC, Headley Court, UK. SDD is a Consultant in Rehabilitation on the Centre for Lower-Limb Rehabilitation at DMRC, Headley Court, UK. DC is a specialist Exercise Rehabilitation Instructor (ERI) at DMRC, Headley Court, UK. ES is a Defence Consultant Radiologist at Oxford University Hospital, Oxford, UK. SDP is a Senior Lecturer on the School of Sport, Health and Applied Science at St Mary's University, London, UK. AB is the Defence Professor for Rheumatology and Rehabilitation Medicine, Consultant in Rheumatology and Rehabilitation and Officer Commanding ADMR at DMRC, Headley Court, UK.
Ethics approval and consent to participate
Written informed consent will be obtained from the participant. Ethical approval was obtained for this study by the Ministry of Defence Research Ethic Committee (MODREC) (protocol number: 442/MODREC/13).
Consent for publication
Written consent was provided for all images taken within the manuscript.
Competing interests
The authors declare that they have no competing interests.
Publisher's Note
Springer Nature remains neutral with regard to jurisdictional claims in published maps and institutional affiliations.
Open AccessThis article is distributed under the terms of the Creative Commons Attribution 4.0 International License (http://creativecommons.org/licenses/by/4.0/), which permits unrestricted use, distribution, and reproduction in any medium, provided you give appropriate credit to the original author(s) and the source, provide a link to the Creative Commons license, and indicate if changes were made. The Creative Commons Public Domain Dedication waiver (http://creativecommons.org/publicdomain/zero/1.0/) applies to the data made available in this article, unless otherwise stated.
Authors' Affiliations
(1)
Academic Department of Military Rehabilitation, Defence Medical Rehabilitation Centre (DMRC), Headley Court, Epsom, UK
(2)
Department for Health, University of Bath, Bath, UK
(3)
Imaging Department, Oxford University Hospitals, Oxford, UK
(4)
School of Sport, Health and Applied Science, St Mary's University, London, UK
(5)
National Heart and Lung Institute, Faculty of Medicine, Imperial College London, London, UK