Erratum to: Culturally adaptive storytelling intervention versus didactic intervention to improve hypertension control in Vietnam: a cluster randomized controlled feasibility trial
Pilot and Feasibility Studies
2017
4:2
Received: 2 June 2017
Accepted: 2 June 2017
Published: 15 June 2017
The Erratum to this article has been published in Pilot and Feasibility Studies 2017 3:48
Following publication of the original article [
1
], The author found that there was a minor error in Fig.
2
that needed to be corrected. In the Storytelling intervention group, one patient lost to follow up should be at 3 month, not at 1 month. The corrected Fig.
2
is included below.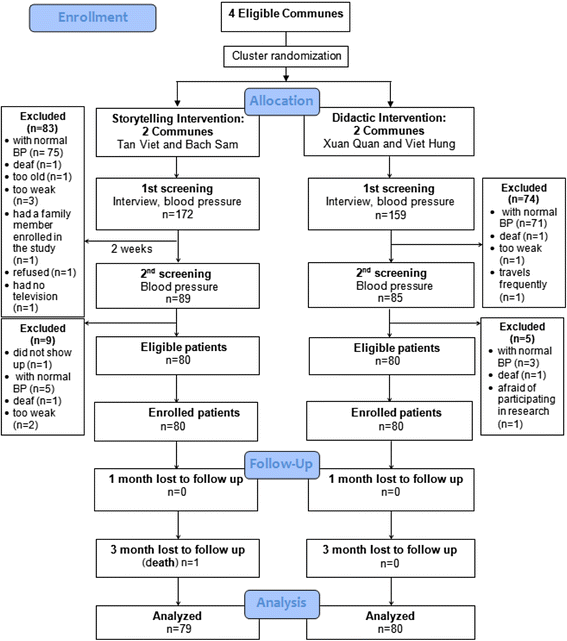 Open AccessThis article is distributed under the terms of the Creative Commons Attribution 4.0 International License (http://creativecommons.org/licenses/by/4.0/), which permits unrestricted use, distribution, and reproduction in any medium, provided you give appropriate credit to the original author(s) and the source, provide a link to the Creative Commons license, and indicate if changes were made. The Creative Commons Public Domain Dedication waiver (http://creativecommons.org/publicdomain/zero/1.0/) applies to the data made available in this article, unless otherwise stated.
(1)
Institute of Population, Health and Development, 18 Alley 132, Hoa Bang, Street, Cau giay District, Hanoi, Vietnam
(2)
Department of Quantitative Sciences, Baylor Scott & White Health, Dallas, Texas, USA
(3)
Department of Quantitative Health Sciences, University of Massachusetts Medical School, Worcester, MA, USA
(4)
Ministry of Health, Hanoi, Vietnam
(5)
Department of Pathophysiology–Immunology, Hanoi School of Public Health, Hanoi, Vietnam
(6)
Bates College, Lewiston, ME, USA
Nguyen HL, Allison JJ, Ha DA, Germán C, Ly HN, Tran HT, Nguyen CK, Dang DM, Phan NT, Vu NC, Nguyen QP, Goldberg RJ. Culturally adaptive storytelling intervention versus didactic intervention to improve hypertension control in Vietnam: a cluster-randomized controlled feasibility trial. Pilot and Feasibility Studies. 2017;3:22. doi:10.1186/s40814-017-0136-9.View ArticlePubMedPubMed CentralGoogle Scholar